GOLD LINE TWIN TURBO SYSTEM
The Ultimate bolt on solution. Cultivated from our Platinum Line, this Twin Turbo System, manufactured in-house,brings cost effectiveness and precision built fitment together. Enjoy this extremely fun and reliable system at a desirable price point for the Gen 2 Audi R8 + Lamborghini Huracan platforms. Capable of delivering upwards of 1200WHP. As with any B-Rogue product quality is never sacrificed.
Comp Turbo Technology
B-ROGUE Built specd CTR Air-cooled billet twin turbos.

The latest in compressor design technology.  Increased efficiency at higher pressure ratios.

Air cooled design means ZERO oil lines are used for consistant relability.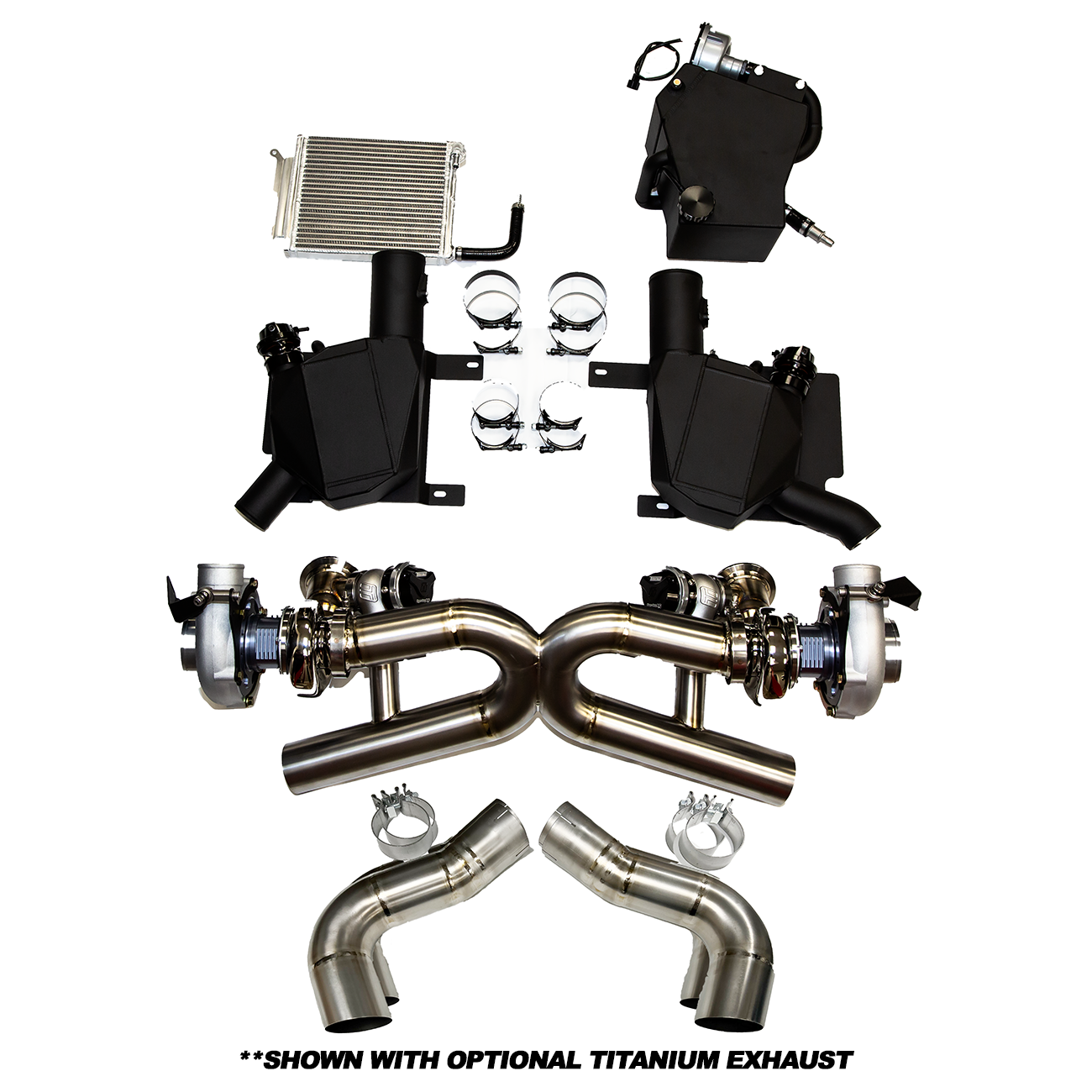 Utlizing CFD (Computational Fluid Dynamics) to optimize the design flow characteristics of our intercoolers.
We have moved away from traditional square/box shaped intercooler designs which generally create disagreeable turbulence, creating back pressure with unwanted throttle tip-in response. Our Design aids in increasing Velocity from the loss that occurs as air flows through the the density of the intercooler cores, and in reducing turbulence in between shifts where the air flow stops and starts rapidly. This aids in creating a smoother power band and power delivery. We hand craft our intercoolers in house to a zero tolerance fitment in order to eliminate having to cut, drill or permanently alter any factory retained aspects to the vehicle.
B-ROGUE BUILT PARTS DEVELOPED AND BUILT IN-HOUSE
B-ROGUE BUILT stainless steel exhaust system.

Perfeclty matched sound and performance. Built by hand in house.

B-ROGUE BUILT intercoolers and heat exchangers

Developed and hand built in house utlizing BELL Cores that are rated to 1200 WHP.

B-ROGUE BUILT single heim jointed turbo system hanger

Our in-house designed and built turbo hangers add optimal strength and flexibility.
GOLD LINE TWIN TURBO PACKAGES
Built around our Gold Line Twin Turbo System, these packages offer power from 750WHP to 1100WHP. Featuring a stainless steel exhaust systems. All twin turbo packages are only for sale for in-house install or authorized installers.
Regular price

Sale price

$31,500.00

Unit price

per

Regular price

Sale price

$43,500.00

Unit price

per

Regular price

Sale price

$52,700.00

Unit price

per