PLATINUM LINE TWIN TURBO SYSTEM
Our Platinum Line Twin Turbo Systems are developed around Comp Turbo Technology all Billet Air-Cooled turbos which do not use any oil or coolant from the motor. This allows for a divorced system from the vehicle, with the greatest benefit being the elimination of potential fire risks due to seeping/failing oil lines.  We utilize factory mounting locations to bolt to for each added component. No cutting, drilling or modifying of the chassis in any way.
Comp Turbo Technology
B-ROGUE Built specd CTR Air-cooled billet twin turbos.

The latest in compressor design technology.  Increased efficiency at higher pressure ratios.

Air cooled design means ZERO oil lines are used for consistant relability.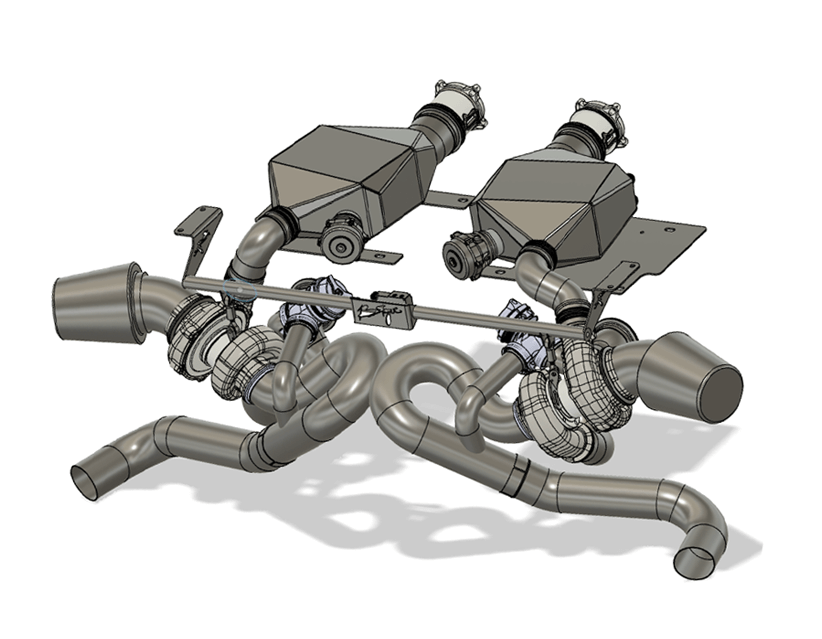 Utlizing CFD (Computational Fluid Dynamics) to optimize the design flow characteristics of our intercoolers.
We have moved away from traditional square/box shaped intercooler designs which generally create disagreeable turbulence, creating back pressure with unwanted throttle tip-in response. Our Design aids in increasing Velocity from the loss that occurs as air flows through the the density of the intercooler cores, and in reducing turbulence in between shifts where the air flow stops and starts rapidly. This aids in creating a smoother power band and power delivery. We hand craft our intercoolers in house to a zero tolerance fitment in order to eliminate having to cut, drill or permanently alter any factory retained aspects to the vehicle.
DEVELOPED AND BUILT IN-HOUSE
B-ROGUE BUILT Engineered Intercooler, Throttle Body/MAF Adapters + Clamps

Always striving to better ourselves, we are proud to bring to our customers in-house designed products/parts to optimize performance while ensuring the aesthetics doesn't take a back seat.

B-ROGUE BUILT Billet Turbo Hanger

Our goals never change; strive for the very best. Our in-house designed and built turbo hangers add optimal strength and flexibility.

B-ROGUE BUILT SIGNATURE HAND-CRAFTED EXHAUST SYSTEM

Our Exclusive Signature Exhaust Systems are all Designed and Hand-Built in house.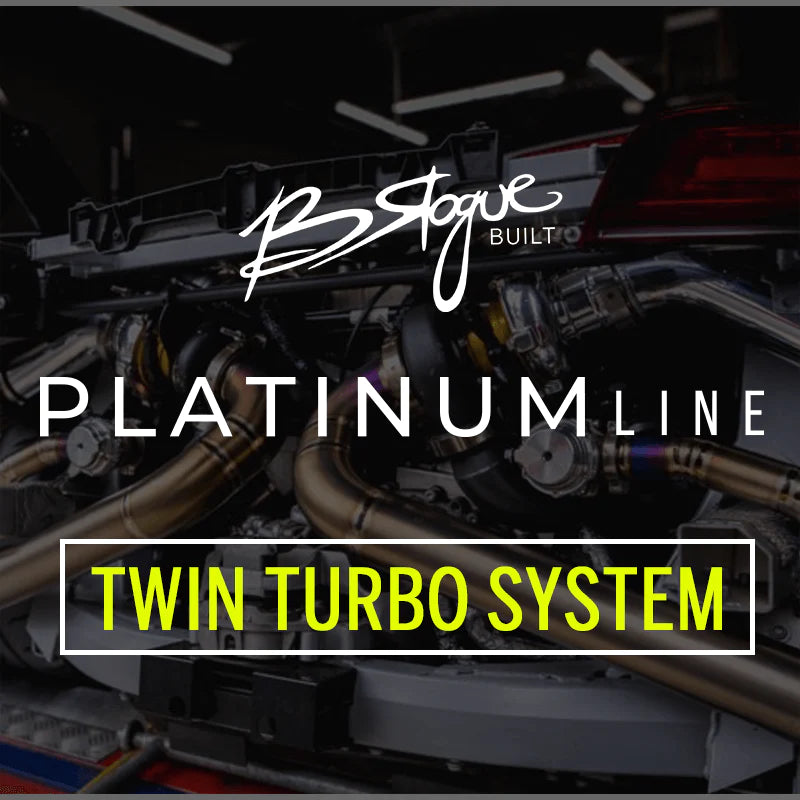 Platinum Line twin turbo systems are only for sale to in-house or authorized installers. If you would like to order a system directly to your door, please see the Gold line Twin Turbo System.
BUY NOW
PLATINUM LINE TWIN TURBO PACKAGES
Gain the ultimate boost in power from 750WHP to 1800whp and beyond. Our Platinum Twin Turbo Packages feature 3D Carbon Fiber, Titanium, and Billet elements as functional pieces, such as our turbo hanger braces. We have paired the system with a B-ROGUE BUILT Hand-crafted titanium exhausts. All Twin Turbo Packages are only available for in-house install or authorized installers.